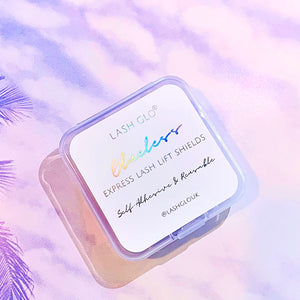 Regular price
#'Glueless' Lash Lift Shields - L Curl - Top and Bottom Lashes - 7 pairs
---
Introducing our new 'Glueless' Lash Lift Shields for top and bottom lashes! 

A revolutionary shield that molds to the client's lid without the use of adhesive meaning quicker application and no mess at the end of the Lash Lift treatment! They can also be reused up to 25 times! Just clean and sterilise after each use. 
Each pack contains 4 pairs of 'Glueless' Lash Lift shields for top lashes in different sizes to create different looks: S - M - L - XL
Along with 3 pairs of 'Glueless Lash Lift shields for bottom lashes in different sizes for different length lashes: A-B-C
With the perfect combination of size, comfort and curve, these shields will help create a stunning high lift.
Use the Lash Glo Lash Lift Adhesive to stick the lashes back to the shield. 
We can't wait for you to try our new 'Glueless' Lash Lift shields!