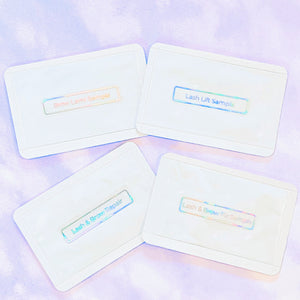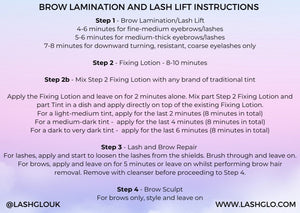 Regular price
#Sample Sachets - Brow Lift & Lash Lift Lotion Set - 1,1,2 & 3 - 2ml per sachet
---
#Sample Sachets - Brow Lift & Lash Lift Lotion Set  - 1,1,2 & 3 - 8ml
In this set, you will receive x4 sachets which contain 1.5-2ml of product. Around 2-10 treatments are achievable per sachet.
Step 1 Brow Lamination 1.5 - 2ml
Step 1 Lash Lift 1.5 - 2ml
Step 2 Lash & Brow Fix 1.5 - 2ml
Step 3 Lash & Brow Repair 1.5 - 2ml
Directions: Snap the sachet open and dispense the amount of product you need. Close the sachet back up and squeeze the product down to stop any excess product from seeping out. Place a small amount of micropore tape over the opening. 
This is an express brow and lash lift system with shorter timings so that you can work more quickly whilst still achieving the same if not better results.
Made in Europe. Cruelty-Free and Vegan-Friendly.
Brow Lamination and Lash Lift Timings
Step 1 - Brow Lamination/Lash Lift
4-6 minutes for fine-medium eyebrows/lashes
5-6 minutes for medium-thick eyebrows/lashes
7-8 minutes for downward turning, resistant, coarse eyelashes only
Step 2 - 8-10 minutes
Step 2b - Mix Step 2 Fixing Lotion with any brand of traditional tint
Apply the Fixing Lotion and leave on for 2 minutes alone. Mix part Step 2 Fixing Lotion and part Tint in a dish and apply directly on top of the existing Fixing Lotion.
For a light-medium tint, apply for the last 2 minutes (8 minutes in total)
For a medium-dark tint - apply for the last 4 minutes (8 minutes in total)
For a dark to very dark tint - apply for the last 6 minutes (8 minutes in total)
Step 3 - Lash and Brow Repair
For lashes, apply and start to loosen the lashes from the shields. Brush through and leave on.
For brows, apply and leave on for 5 minutes or leave on whilst performing brow hair removal. Remove with cleanser before proceeding to Step 4.
Step 4 - Brow Sculpt
For brows only, style and leave on  
Expiry is 1 month from the date of purchase.

Patch Testing
All products are for professional use only. You must be a qualified and insured therapist to use Lash Glo products.
All products must be tested at least 48 hours before use. Please keep in mind your insurance companies' patch test guidelines. Apply a small amount of each product either behind the ear or to the inside of the elbow. Leave each product on for at least 30 minutes. Remove with a damp cotton pad.
If there is any irritation, redness, swelling or itching during the patch test or within the first 24-48 hours, the products should not be used at all. If there is no sensitivity after the patch test, it is still possible for a client to have an allergic reaction. This should be discussed with your client prior to the treatment and a consultation form/disclaimer should be signed and dated. A patch test does not guarantee that an allergic reaction will not occur during or after the treatment has been carried out. If an allergic reaction does occur, clients must consult a doctor immediately.
Lash Glo Ltd will not be held liable for any allergic reactions that occur at any time.